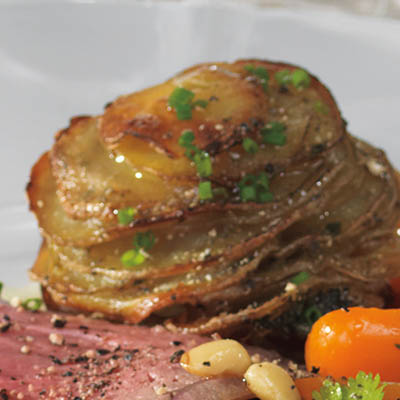 Ingredients
Serves 12
½ cup (125 ml) unsalted butter, melted, divided
1 tbsp (15 ml) chopped fresh thyme
1 tsp (5 ml) chopped fresh rosemary
1 large garlic clove, minced
1¾ lb (840 g) small yellow potatoes
2 tsp (10 ml) chopped fresh chives
salt and pepper, to taste
Instructions
Preheat oven to 350 F (180 C). Brush cups of a 12-cup muffin tin with some melted butter before lining bottom of each cup with a round of fitted parchment paper. Set aside.
In a small saucepan, stir together remaining butter, thyme, rosemary and garlic over medium-low heat until fragrant, about 2 minutes.
Using a mandoline, thinly slice potatoes crosswise into paper thin rounds before placing them in a large bowl. Drizzle with herb butter, add chives and season with salt and pepper before tossing to combine.
Divide potato slices among muffin cups, layering and overlapping slices to create a circular pattern. Drizzle layered slices with any remaining butter and seasoning mixture.
Cover muffin tin tightly with foil and place on baking sheet. Bake potato stacks until pierced easily with a knife, about 35 minutes. Remove foil and place a baking sheet over muffin tin. In one quick motion, turn over and lightly tap underside of muffin tins, releasing potatoes onto baking sheet. Rearrange slices that displaced and discard parchment paper disks. At this point, Mini Pomme Anna may be stored, covered in refrigerator, for up to 2 days.
Just before ready to serve, heat oven to 425 F (220 C). Uncover and bake until bottoms and edges are golden and crispy, about 25 to 30 minutes. Serve warm.
Drink Pairings