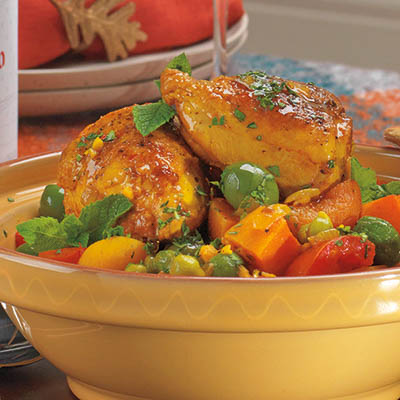 NORTH AFRICAN CHICKEN TAGINE
Ingredients
Serves 6
2 bone-in chicken breasts, halved
salt and freshly ground pepper, to taste
1 large sweet onion, diced
4 large garlic cloves, minced
1-in (2.5 cm) fresh ginger, peeled and finely minced
2 cups (500 ml) chicken stock
1 tsp (5 ml) each black peppercorn, cumin seeds, whole coriander, crushed red chilies
2 tsp (10 ml) sweet or hot paprika
1 tsp (5 ml) saffron threads
2 cups (500 ml) cubed butternut squash
1 preserved lemon, coarsely chopped and pitted
½ cup (125 ml) dried apricots, halved
1 tbsp (15 ml) liquid honey
1 cup (250 ml) frozen green chickpeas, thawed
¾ cup (175 ml) small green olives, such as Castelvetrano
2 firm Roma tomatoes, coarsely chopped
¼ cup (60 ml) each coarsely chopped cilantro and mint
herbed couscous, to serve (optional)
Instructions
Preheat oven to 350 F (180 C).
Heat oil in a large, deep Dutch oven with a tight-fitting lid. Skin chicken if desired. Season chicken with salt and pepper and lightly brown a couple pieces at a time in hot oil. Transfer to a large plate.
Add diced onion, garlic and ginger to oil remaining in pan. Sauté until soft and onion is translucent. Stir in stock. Remove from heat and return chicken pieces to Dutch oven along with any juices that may have collected on plate. Set aside.
In a small, heavy-bottomed dry saucepan combine peppercorns, cumin, coriander and crushed red chilies. Toast mixture over medium heat until it begins to smoke, about 2 minutes. Transfer to a small spice grinder or a mortar and pestle. Add turmeric, paprika and saffron. Grind to a fine powder. Sprinkle over chicken and turn chicken several times with tongs to evenly disperse spices.
Add butternut squash, lemon, apricots, star anise, cinnamon sticks and honey to chicken. Cover tightly and bake in centre of preheated oven for 30 minutes. Stir in chickpeas, olives and tomatoes. Return to oven. Continue to bake, covered, for 15 more minutes or until piping hot and chicken is fully cooked. Transfer to a deep, warmed tagine dish to serve. Season with additional salt and pepper, to taste. Sprinkle with chopped cilantro and mint and serve over herbed couscous. Optional, serve with dollops of plain yogurt and prepared harissa sauce.
Drink Pairings