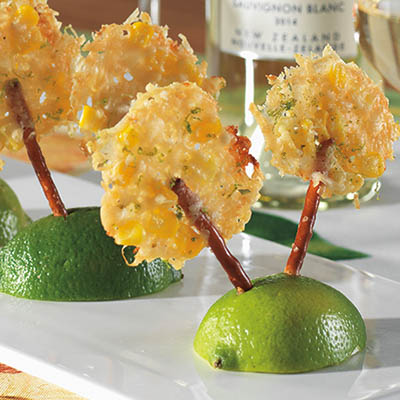 PARMESAN AND CORN LOLLIPOPS
Ingredients
Serves 16
¾ cup (175 ml) finely grated Parmigiano- Reggiano cheese
¼ cup (60 ml) fresh or frozen corn kernels, cooked and cooled
1 tsp (5 ml) fresh lime juice
¼ tsp (1 ml) freshly ground black pepper, plus extra to taste
16 thin pretzels sticks or bread sticks
Instructions
With rack in middle position, preheat oven to 200 C (400 F). Line a baking sheet with parchment paper or silicon mat.
In a small bowl, combine cheese, corn, lime juice and pepper.
Place 8 pretzel sticks on baking sheet, making sure to leave enough space between each to ensure pops don't merge together once cheese melts. Place a 2-in (5 cm) ring or cookie cutter on top of each pretzel and sprinkle 1 tbsp (15 ml) of cheese mixture into it in a thin layer.
Bake for about 6 minutes or until cheese has melted and is golden. Remove from oven and slide paper or silicone mat off baking sheet and onto a rack to help speed up cooling. Sprinkle with lime zest and freshly ground black pepper. Leave to cool for 1 to 2 minutes until lollipops have become crisp. Carefully remove each one with a palette knife.
Serve immediately or keep for 4 to 5 days in an airtight container and reheat before serving.
Drink Pairings