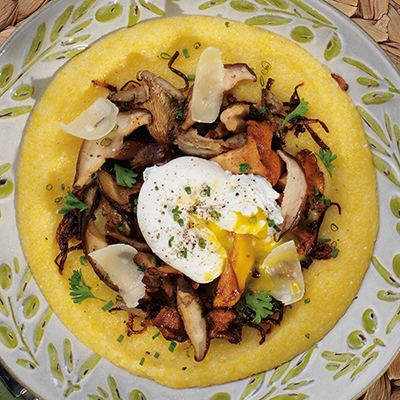 POLENTA WITH MUSHROOMS AND POACHED EGG
Ingredients
Serves 2
3 cups (750 ml) assorted wild mushrooms
4 cups (1 L) vegetable stock
1 cup (250 ml) dry polenta
1 cup (250 ml) + 2 tbsp (30 ml) grated Parmesan, divided
2 tbsp (30 ml) chopped parsley
2 tbsp (30 ml) chopped chives
Instructions
In a cast iron pan over medium heat, heat oil and butter. Add garlic and shallot, cook until shallots are browned. Turn heat down to low, and add mushrooms. Cook until tender, around 10 to 15 minutes.
In a medium saucepan over high heat, bring vegetable stock to a rolling boil. Add polenta and whisk rapidly. Turn heat down to low and cover for about 8 minutes, stirring occasionally. Once polenta is cooked add 1 cup (250 ml) of Parmesan and stir.
To serve, place polenta in 2 shallow bowls, divide mushrooms over top. Top each bowl with a poached egg, parsley, chives and remaining 2 tbsp (30 ml) Parmesan.
Drink Pairings