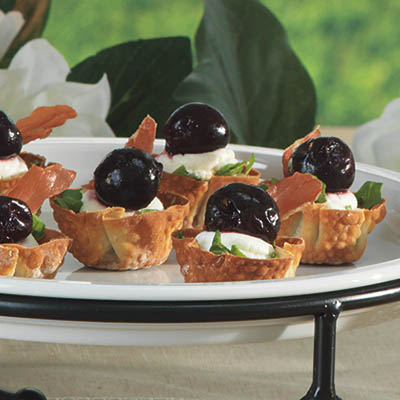 PROSCIUTTO AND SOUR CHERRY BITES
Ingredients
Serves 24
2 cups (500 ml) fresh or frozen, thawed pitted tart cherries
¼ cup (60 ml) granulated sugar
2 tbsp (30 ml) balsamic vinegar
1 tsp (5 ml) minced fresh ginger root
1 pinch crushed red pepper flakes
¼ tsp (1 ml) ground cardamom
½ tsp (2 ml) salt, plus extra
2 tbsp (30 ml) grapeseed oil, plus extra for greasing
3 oz (90 g) prosciutto, thinly sliced
5 oz (140 g) goat's cheese
3 tbsp (45 ml) whipping cream, plus extra
½ cup (125 ml) chopped baby arugula
freshly ground black pepper
Instructions
In a heavy-bottomed saucepan stir together first 10 ingredients and bring to a boil over medium-high heat. Reduce heat to medium-low and simmer mixture, stirring occasionally until thickened and syrupy, about 10 to 20 minutes. Transfer mixture to an airtight container and refrigerate until cool. Sour cherry sauce can be made a week in advance and kept covered and refrigerated until ready to use.
Preheat oven to 375 F (190 C). Lightly grease a mini muffin tin with grapeseed oil.
Brush wonton wrappers with oil and gently press each one into muffin cups. Wrapper will overlap itself as it conforms to shape of muffin cup. Sprinkle wonton wrappers with salt and bake until browned and crisp, about 8 to 10 minutes. Remove from tin and allow wrappers to cool on a wire rack.
While wonton cups are cooling, place prosciutto in single layer on parchmentlined baking tray. Bake in 375 F (190 C) oven until crispy, 8 to 10 minutes. Set aside and let cool to room temperature before breaking into small shards.
When ready to assemble, in a small bowl mix together goat's cheese and whipping cream with a fork. If desired, add additional cream for a creamier consistency. Place about 1 tsp (5 ml) chopped arugula into each wonton cup before topping with 1 tsp (5 ml) goat's cheese. Top with a prepared sour cherry and a dollop of accompanying sour cherry sauce, a shard of prosciutto and a grind of black pepper before transferring to a serving platter. Serve immediately.
Drink Pairings