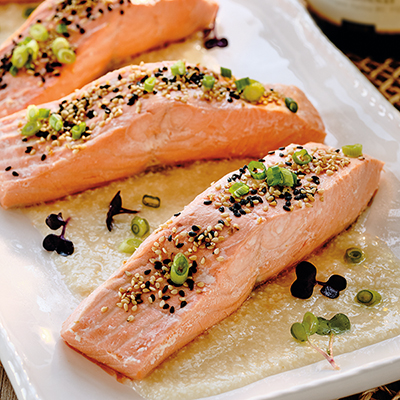 Salmon Poached in Horseradish Milk
Ingredients
Serves 4
1 cup (250 ml) + 1 tbsp (15 ml) whole milk, divided
1 tbsp (15 ml) prepared creamed horseradish
1½ lbs (680 g) salmon fillets, cut into 4 equal pieces
1 tbsp (15 ml) cornstarch
1 green onion, trimmed and thinly sliced
½ tsp (2.5 ml) toasted sesame seeds
cooked spring vegetables or green salad, to serve
Instructions
In a large frying pan, whisk together 1 cup (250 ml) milk and horseradish. Set pan over medium-low heat and bring mixture just to a simmer, stirring occasionally. Don't worry if milk mixture splits. Season with a good pinch of salt.
Add salmon to frying pan in a single layer, skin side down, and simmer very gently, turning once and stirring liquid often with a wooden spoon, until salmon is cooked through, about 6 to 10 minutes total. Remove salmon to a serving platter and set aside. Keep milk mixture in frying pan on heat.
In a small bowl, whisk together cornstarch and remaining 1 tbsp (15 ml) milk. Add to warm milk mixture in frying pan and, whisking constantly, increase heat to medium-high and cook until sauce has thickened, about 2 minutes. Remove frying pan from heat and season sauce with additional salt to taste. Spoon over salmon and garnish with green onion and sesame seeds. Serve alongside your favourite spring vegetables or a green salad.
Drink Pairings