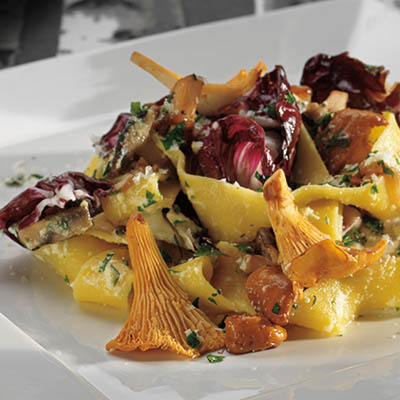 SIMPLE SAVOURY MUSHROOM AND RADICCHIO TAGLIARINI
Ingredients
Serves 4
2 tbsp (30 ml) unsalted butter
3 tbsp (45 ml) olive oil, divided, plus extra
2 large shallots, peeled and sliced
1 medium portobello mushroom, peeled, gills scraped and sliced
1 cup (500 ml) mix of cleaned and sliced chanterelles and shiitakes
10 large fresh sage leaves, cut into thin ribbons
⅓ cup (75 ml) dry white wine
1 lb (500 g) package tagliarini pasta (or pappardelle)
½ cup (125 ml) ricotta or cream cheese, room temperature
1 small head radicchio, leaves torn into small bite-sized pieces
⅓ cup (75 ml) finely grated Parmesan, plus extra
¼ cup (60 ml) each, coarsely chopped flat-leaf parsley and fresh oregano
salt and freshly ground black pepper
Instructions
Melt butter and 2 tbsp (30 ml) oil in a large frying pan. Add shallots and sauté over medium heat for 5 minutes until soft and lightly golden. Add garlic, mushrooms and sage and continue to sauté for 4 or 5 minutes, until mushrooms are pale golden and tender. Add a little more oil if needed. Deglaze pan with white wine and cook until reduced by half. Cover and turn off heat.
Cook pasta in a large saucepan with lightly salted boiling water for 10 to 12 minutes, or until al dente. Drain well and return to pan. Add ricotta or cream cheese and eggs. Stir vigorously until pasta is coated.
Fold in mushroom mixture along with radicchio, Parmesan, parsley and oregano. Add salt and pepper, to taste. Serve immediately with extra Parmesan, if desired.
Drink Pairings