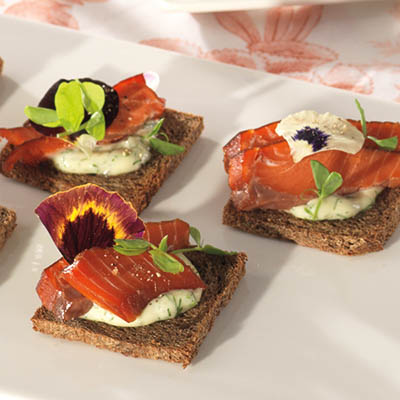 Ingredients
Serves 20
1 large egg, at room temperature
1 tbsp (15 ml) lemon juice
1 tbsp (15 ml) Dijon mustard
½ cup (125 ml) grapeseed oil
2 tbsp (30 ml) packed fresh dill, chopped
salt and pepper, to taste
10 thin slices pumpernickel bread
3 tbsp (45 ml) unsalted butter, at room temperature
6 oz (180 g) hot smoked salmon, sliced or chunked
edible flowers, for garnish (optional)
Instructions
Preheat oven to 400 F (200 C).
In a blender, mix together egg, lemon zest, lemon juice, mustard and oils until well combined and a thick mayonnaise forms. Transfer to a bowl and stir in dill. Season to taste with salt and pepper, then cover and refrigerate until ready to use. Mayonnaise should be used within 3 days of making.
Cut pumpernickel into 3 x 2-in (8 x 5 cm) rectangles (or bite-sized, if preferred). Spread a thin layer of butter on one side of each slice and place on a baking tray. Toast in oven until they just start to get crisp, about 3 minutes. Transfer to a wire rack and cool to room temperature.
To serve, spread each slice of bread with a little mayonnaise. Top with smoked salmon and garnish with microgreens and edible flowers.
Drink Pairings