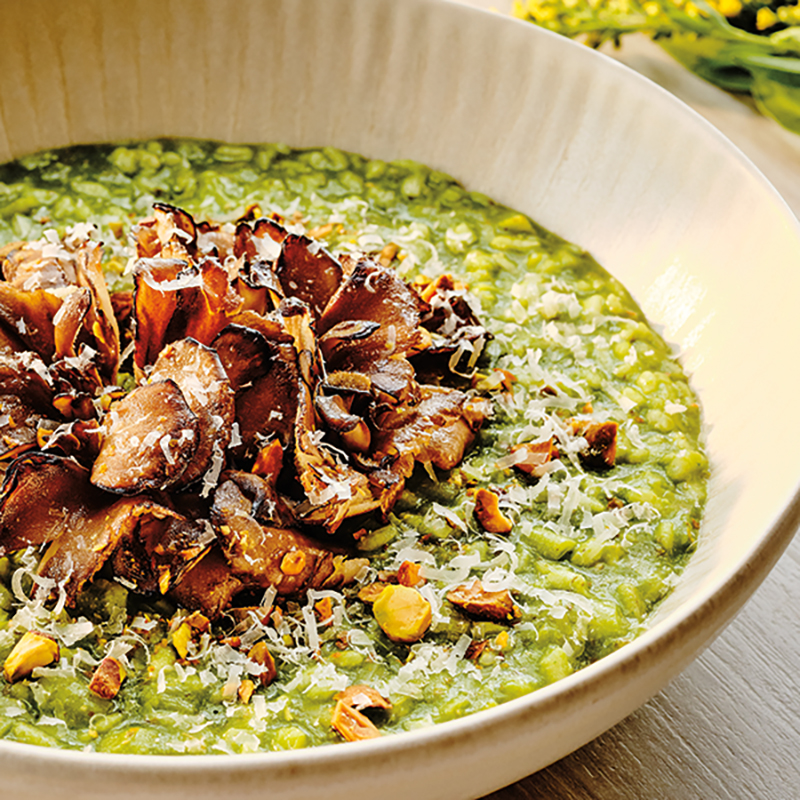 Spring Risotto
Life can be hard, making dinner shouldn't be! These are very simple spring meals.
Ingredients
Serves 4
1 handful spinach, blanched
3 to 4 cups (750 ml to 1 L) chicken or vegetable stock
2 leeks, white parts only
4 bunches maitake* mushroom, bottoms trimmed
4 tbsp (60 ml) olive oil, divided
salt and pepper, to taste
¼ cup (60 ml) butter, divided
2 cups (500 ml) Arborio rice
1 x 7 oz (200 ml) jar pesto
4 oz (125 g) Parmigiano-Reggiano, finely grated, plus more for garnish
Instructions
Blend spinach with just enough stock to make a smooth purée. Set aside for later.
In a medium saucepan, bring stock to a boil. Reduce heat to low and keep warm.
To clean leeks, slice in half lengthwise. Run under tap, spreading layers out to clean between. Cut into 1-in (2.5 cm) slices.
Preheat oven to 375 F (190 C). Place mushroom bunches on parchment-lined baking sheet. Drizzle with 2 tbsp (30 ml) oil and season with salt and pepper. Roast in oven until golden brown and cooked through, about 15 minutes.
In a large shallow saucepan, add 2 tbsp (30 ml) oil and 1 tbsp (15 ml) butter over medium heat. Reduce heat to low and add leeks. Season to taste with salt and pepper and cover with lid. Slowly cook for 15 minutes, stirring occasionally, or until leeks are soft. Remove lid and turn up heat to medium-high. Cook, stirring constantly, until all liquid has evaporated, taking care not to brown leeks.
Add rice and stir until all rice is coated with fat. Add white wine and cook until completely absorbed.
Reduce heat to medium-low, add a ladle of hot stock and stir to combine. Stir frequently. Once stock has absorbed, add another ladle of stock and continue cooking, stirring frequently. Repeat this until rice is just cooked; it should be tender but not soggy. If more liquid is needed, use hot water.
Turn off stove. Mix in pesto, butter and cheese. Add reserved spinach purée and stir until combined. Add more stock or water if needed, to loosen risotto.
Divide between 4 bowls. Place a mushroom on each serving and garnish with more cheese.
*Substitute maitake mushroom for oyster mushroom as desired.
Drink Pairings