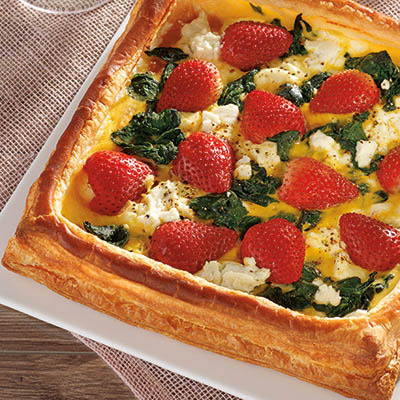 STRAWBERRY, SPINACH AND GOAT'S CHEESE TART
Ingredients
Serves 6
1 lb (500 g) ready-made puff pastry, thawed
1 tsp (5 ml) grapeseed oil
5 oz (140 g) baby spinach
salt and pepper, to taste
¼ cup (60 ml) crème fraîche or sour cream
4 oz (125 g) goat's cheese, crumbled
4 to 8 large strawberries, halved
Instructions
Preheat oven to 400 F (200 C). Line a rimmed baking sheet with parchment paper and set aside.
In a small bowl, make an egg wash by whisking together 1 egg and water until well combined. Set aside.
On a lightly floured work surface, roll puff pastry into a 9 x 9-in (23 x 23 cm) square and place on prepared baking sheet. With a sharp pairing knife, score a ½-in (1.25 cm) border inside from edge of pastry, taking care not to cut completely through. Prick pastry all over inside border with fork. Brush surface of pastry with a light coating of egg wash and bake until puffed and starting to brown, 15 to 18 minutes. Gently push down base inside border and set pastry shell aside while making filling.
Warm oil in a frying pan over medium heat. Add a handful of spinach and a pinch of salt and pepper. Cook, stirring often, until just wilted. Continue adding handfuls of spinach, until all spinach is wilted. Remove pan from heat and set aside.
In a large bowl, whisk together remaining 2 eggs, egg yolk, crème fraîche and a pinch of salt and pepper. Stir in wilted spinach before spooning mixture into pastry, taking care that filling does not flow over pastry boarder. Arrange chunks of goat's cheese and strawberries over filling. Return tart to oven and cook until filling is set, 15 to 20 minutes. Let tart cool for 10 minutes before slicing and dividing among serving plates. Enjoy warm.
Drink Pairings