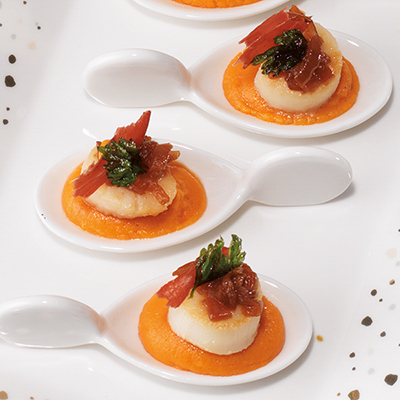 SWEET POTATO AND SCALLOP SPOONS
Ingredients
Serves 8
3 tbsp (45 ml) grapeseed oil, divided
2 tbsp (30 ml) unsalted butter, divided
2 large yellow onions, peeled, thinly sliced
salt and pepper, to taste
2 tbsp (30 ml) red wine vinegar
1 tbsp (15 ml) granulated sugar
2 small sweet potatoes, washed and scrubbed
2 tbsp (30 ml) half and half cream
2 or 3 thin slices prosciutto
¼ cup (60 ml) Italian parsley leaves, divided
16 scallops, patted dry with a paper towel
Instructions
Preheat oven to 350 F (180 C).
In a small saucepan over medium heat, heat 1 tbsp (15 ml) oil and 1 tbsp (15 ml) butter. Add onions, salt and pepper and cook, stirring often, until reduced in volume and starting to brown, about 20 to 30 minutes. Increase heat to medium-high and stir in vinegar and granulated sugar. Cook, stirring often, until onions are a deep golden brown, about another 15 minutes. Remove from heat and set aside.
Pierce sweet potatoes all over with a fork. Place on a microwave-safe plate alongside a small bowl full of water. Microwave on high for 5 to 7 minutes. Remove and split open, slicing down middle. Centre of sweet potato will still be a bit hard. Place back on plate and microwave until completely soft, another 5 to 7 minutes. Scoop softened flesh and place in a blender along with half and half and salt and pepper, to taste. Blend, adding more half and half if needed, to create a smooth purée, before transferring to a bowl and setting aside.
Place prosciutto on a parchment-lined baking tray, without overlapping. Bake for 15 minutes, before turning off oven and letting tray sit in oven for another 10 minutes. Remove from oven and let prosciutto cool on tray before breaking into shards. Set aside.
In a small frying pan heat remaining 2 tbsp (30 ml) oil over medium heat until hot but not smoking. Add half parsley leaves, quickly cover with lid for 5 seconds before removing and cooking, stirring frequently, until crispy, about 30 seconds. Take care as oil will splatter and hiss as soon as parsley hits hot pan. Transfer to a plate covered with a paper towel and season. Repeat with remaining parsley. Set aside.
Without cleaning frying pan, place back over medium-high heat. Season scallops with salt. Once oil in pan is almost smoking, add scallops making sure not to crowd them. Cook scallops in batches if necessary. Allow to sear, undisturbed, for about 2 minutes or until browned. Flip, add remaining 1 tbsp (15 ml) butter and lime juice. Continue cooking, basting with buttery juices, until cooked through, about 2 minutes.
To assemble, place a dollop of warm sweet potato purée in an appetizer spoon. Top with a scallop, some caramelized onions, a piece of prosciutto and some fried parsley. Serve while scallops are still warm.
Drink Pairings